A Fun and Informative Boating Forum for C-Dory People!
No Rules - Just be nice!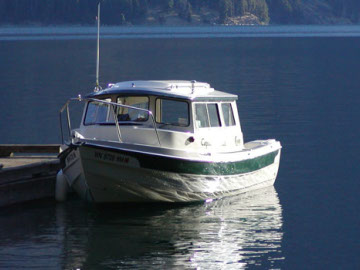 Announcement: 03/06 - 03/08 St. John's River Florida CBGT
Posted: Avidmagnum12 @ Sun Sep 24, 2017 10:55 am
It's time again to make your plans to join fellow C-Brats at Hontoon Island State Park located on the magnificent St. John's River near Deland Florida.
2018's dates are from Tuesday March 6 thru Thursday March 8. But many cruise the river and its tributaries before and after the gathering. The St. John's is presently about 8 or so feet higher than normal and the park will be closed till about De...

[ Read Full ]
Comments: 209 :: View Comments (Post your comment)
Announcement: 05/18 - 05/20 - 2018 Friday Harbor CBGT
Posted: Aurelia @ Wed Jan 10, 2018 12:21 pm
We have confirmed dates from the port now!

May 18, 19, and 20 (Friday, Saturday, Sunday)

We added Friday again to the reservation because so many boats show up early each year. Similar plans to last year including lots of dock space, Friday restaurant dinner, and Saturday potluck of course. More details to follow as spring grows near.

Can we get a signup list?

Greg, Cindie and Aven...

[ Read Full ]
Comments: 24 :: View Comments (Post your comment)
Announcement: 09/?? to 09/?? - Lake Powell 2018
Posted: Wandering Sagebrush @ Tue Dec 19, 2017 6:27 pm
Diana and I are planning on going to Lake Powell this fall. I'm curious if anyone else is interested. Depending on whether or not I get a permit to hunt sage grouse it could be mid to late September when we get there. I'd like the rendezvous to be towards the end of the month.

I will ask Tyboo and/or Da Nag for an event sign up to see see what kind of interest there is.


Comments: 33 :: View Comments (Post your comment)
C-Dorys For Sale
Take a ride
Looking To Buy C-Dory, Charleston SC
Kayak racks over pilot house
Delta get together
Delta get together
C DORYS for SALE
Bowhaus 1992 16' Cruiser for sale
Ashley Lynn 07 22' Cruiser
22' Cruiser, Island Jewel FOR SALE!
22 ft angler
2012 22ft Cruiser - Seattle, WA
2011 C Dory 22 available. Nanaimo BC. $66,000 Cdn ...
2009 19 C-DORY Angler for sale $25000.00
2007 C-Dory 25, for sale
2007 C-Dory 25 FT For Sale, Chincoteague Island, V ...
2007 C-Dory 25 For Sale with Trailer $53,500
2007 22ft. cruiser
2007 22' Cruiser for sale Florida Panhandle
2006 Cape Cruiser Venture 23 in Newport, OR
2006 16' C-Dory Cruiser - Salmon Arm, British Colu ...
2005 St. Jimmy for sale
2004 22 ft C-Dory Cruiser & Trailer for sale
2003 C-Dory 22 Cruiser $31,500
2002 Tomcat on trailer-Washington
2002 C-Dory 22 Cruiser For Sale
2000 Tomcat 24 for sale
14 ft. C-Dory skif