A Fun and Informative Boating Forum for C-Dory People!
No Rules - Just be nice!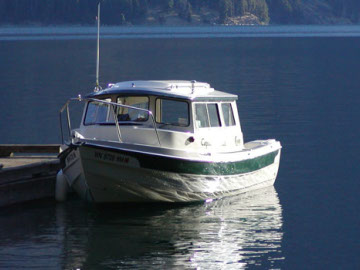 Announcement: 05/18 - 05/20 - 2018 Friday Harbor CBGT
Posted: Aurelia @ Wed Jan 10, 2018 12:21 pm
We have confirmed dates from the port now!

May 18, 19, and 20 (Friday, Saturday, Sunday)

We added Friday again to the reservation because so many boats show up early each year. Similar plans to last year including lots of dock space, Friday restaurant dinner, and Saturday potluck of course. More details to follow as spring grows near.

Can we get a signup list?

Greg, Cindie and Aven...

[ Read Full ]
Comments: 90 :: View Comments (Post your comment)
Announcement: 09/06 - 09/09 - Mississippi River 2018 Gathering
Posted: texasair @ Mon Apr 09, 2018 11:11 am
The 9th Annual Mississippi River Gathering will be held as usual the weekend following Labor Day, September 6-9th. This year we are returning to Alton, Illinois, on the Mississippi River just north of St. Louis.

If you have not visited the Alton Marina, you must do so just to see what a first class marina is all about. Sharon and I have stopped at many very nice marinas and and in a lowly 22...

[ Read Full ]
Comments: 4 :: View Comments (Post your comment)
Announcement: 09/?? to 09/?? - Lake Powell 2018
Posted: Wandering Sagebrush @ Tue Dec 19, 2017 6:27 pm
Diana and I are planning on going to Lake Powell this fall. I'm curious if anyone else is interested. Depending on whether or not I get a permit to hunt sage grouse it could be mid to late September when we get there. I'd like the rendezvous to be towards the end of the month.

I will ask Tyboo and/or Da Nag for an event sign up to see see what kind of interest there is.


Comments: 34 :: View Comments (Post your comment)
C-Dorys For Sale
SOLD Ashley Lynn
Looking To Buy C-Dory, Charleston SC
Interested
For Sale-22 Angler
CD 25. Seaweed For Sale
C DORYS for SALE
Bowhaus 1992 16' Cruiser for sale
Ashley Lynn 07 22' Cruiser
April Fools
23' VENTURE 2008 (2)
23' VENTURE 2008
22' Cruiser, Island Jewel FOR SALE!
22 ft angler
2012 22ft Cruiser - Seattle, WA
2011 C Dory 22 available. Nanaimo BC. $66,000 Cdn ...
2009 19 C-DORY Angler for sale $25000.00
2007 C-Dory 25 FT For Sale, Chincoteague Island, V ...
2007 C-Dory 25 For Sale with Trailer $53,500
2007 22ft. cruiser
2007 22' Cruiser for sale Florida Panhandle
2006 Cape Cruiser Venture 23 in Newport, OR
2006 C-Dory 22' Cruiser with Trailer for Sale
2005 C-Dory 19 Angler For Sale
2004 19' Angler
2004 22 ft C-Dory Cruiser & Trailer for sale
2003 C-Dory 22 Cruiser $31,500
2003 C-Dory 16 Cruiser for sale
2002 Tomcat on trailer-Washington
2002 C-Dory 22 Cruiser For Sale
2000 Tomcat 24 for sale
1997 C-Dory 16 Angler For Sale
1992 C-Dory 16' Cruiser
1991 C-Dory 22 Cruiser, Twin Honda 45s U.P. of Mic ...
1981 22 ft C-Dory for sale
19 or 22 c dory wanted
16'Angler FOR SALE
14 ft. C-Dory skif